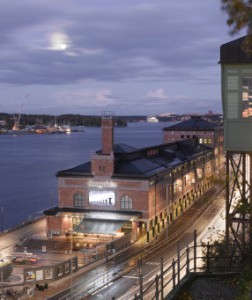 Stockholm Photography Week
March 31 – April 6, 2014
At Stockholm Photography Week, March 31-April 6, photo enthusiasts will have the opportunity to listen to artist talks by world famous photographers as Vee Speers, Anders Petersen, Joyce Tenneson and Roger Ballen. The week also includes workshops led by renowned photographers and visitors will be able to take part of the fair PhotoMarket, where international galleries exhibit.
– Stockholm Photography Week is a celebration of photography and we are proud to have such a line-up of brilliant photographers and galleries participating, says project manager, Angelica Broman.
Stockholm Photography Week is an event for both professional photographers and amateurs, as well as for the regular photographic exhibition visitor. The week, which attracts galleries, photographers and visitors from around the world, includes artist talks, exhibitions, workshops and book signings. At the fair PhotoMarket visitors can experience highlights from the international art market and learn about acquiring and collecting photography from experts.
Artist talks:
Vee Speers was born in Australia and studied at Queensland College of Art. Her work has been widely exhibited and seen on the cover of countless magazines, engaging viewers with a dramatic tension and a unique palette of colour.
Meet Joyce Tenneson in a conversation with Göran Segeholm, head teacher at Fotografiska.
Join Roger Ballen for a guided tour of his exhibition Roger Ballen's Theater of the Absurd. 
Swedish photographer Jacob Felländer meets American photographer Jeff Cowen. Listen to an interesting conversation between two artists, who both in their own unique way have managed to extend the concept of photography.
Workshops:
Anders Petersen is one of Sweden's most internationally recognized photographers. He is renowned for his stream of consciousness approach and his high contrast black and white imagery.
Joyce Tenneson is internationally lauded as one of the leading photographers of her generation. Her easily recognized portraits have appeared on covers for magazines such as Time, Life, NewsWeek, Premiere, Esquire, and The New York Times Magazine.
Roger Ballen was born in New York and has lived and worked in Johannesburg since the 1970s. The exhibition "Roger Ballen's Theater of the Absurd" is shown at Fotografiska March 14-June 6.
PhotoMarket:
PhotoMarket is a unique opportunity for a discerning audience to experience highlights from the international art market in Stockholm, and to learn more about acquiring and collecting photography from some of the foremost experts in the field. Among the exhibited galleries are Camera Work (Berlin), Forma (Milano) and Kahmann Gallery (Amsterdam).

For further information, please contact Jens Hollingby, Communication Manager:
jens.hollingby@fotografiska.se
Read more on Stockholm Photography Week: http://www.spwk.eu

At Fotografiska, we strive to be a vital centre for contemporary photography. Our ambition is to exhibit both world-renown photographers and the up and coming future stars. Located in the heart of Stockholm, the museum has an exhibition space of 2,500 square meters, and features 4 major exhibitions per year and approximately 15-20 minor exhibitions. At Fotografiska, we aim to engage and inspire a dialogue on photography via exhibitions, seminars, and courses.