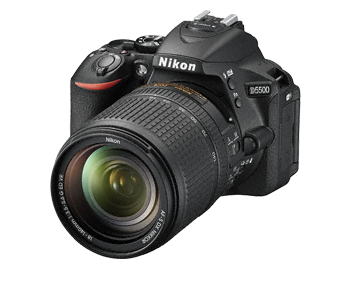 Do your world justice with the Nikon D5500 – the first DX-format D-SLR with a vari-angle touchscreen
Nikon today announces the D5500, the first DX-format camera with a vari-angle touchscreen. Lightweight and powerful, this exceptionally portable D-SLR frees you to capture your best images yet.
From fast movement to challenging low-light situations, and from big prints to sumptuous movies, the D5500 is perfect for creative individuals ready to do more with their photography. The camera's large DX-format image sensor and an ISO range of 100–25600 ensure you'll capture crisp, clean images more often than ever before. Combined with the power of a compatible NIKKOR lens, you get images that explode with clarity. Even when printed large or shown on a big screen, your photos and movies will be crystal-clear reflections of the way you see the world.
Significantly lighter and much slimmer than its predecessor, the D5500 boasts a new monocoque structure and a deep grip for improved handling. The responsive vari-angle touchscreen allows you to control the camera like a smartphone, and built-in Wi-Fi makes it simple to share your high-quality photos via a smart device.¹ Performance, portability, comfort: the D5500 puts perfection within your reach.
Simon Iddon, Group Product Manager, D-SLR lenses and accessories, Nikon UK, says: "The Nikon D5500 is a new class of camera, combining superb ergonomics with powerful imaging technology in a compact, lightweight body. Since the explosion of smartphone technology, there has been a huge wave of innovative and creative photography worldwide. The D5500 is a chance for people to really expand on their photography skills whilst providing outstanding results."
Your shots never looked this good
Leave image-blur behind and enjoy the freedom to create vibrant, richly detailed images that command attention. When it comes to getting the shot you want, the D5500's advanced performance ensures results that never fail to impress. Specifically designed without an optical low-pass filter (OLPF), the camera's image sensor makes the most of its 24.2-megapixel resolution to render images with incredibly crisp detail—especially when captured with a NIKKOR lens. An ISO range of 100–25600 frees you to shoot brilliant photos and movies even when the light is scarce, so you no longer need to be constrained by time or place. Nikon's 39-point autofocus system with nine cross-type sensors in the centre is always on target no matter where your subject is in the frame; and continuous shooting speeds of up to 5 frames-per-second mean fleeting gestures or facial expressions can be snapped at exactly the right moment, even when the action is fast. With Nikon's EXPEED 4 image processor enabling high-speed operation, advanced noise reduction, and smooth movie recording, you're free to capture memorable moments with confidence—and then do more with the results.
Follow your intuition
Touchscreen control, vari-angle artistry, and built in Wi-Fi: the D5500 makes it easy to hit your creative stride. Simply flip, tilt, or rotate the large vari-angle monitor to compose shots that reflect your view on the world, then tap the responsive touchscreen to focus and shoot, or adjust settings such as aperture, ISO, and shutter speed. Swipe to scroll though images, or pinch-to-zoom in or out during playback. Find the shots you love, then share them using the built-in Wi-Fi¹ function: the impressive quality of your photos will make a lasting impression. You can even take advantage of the camera's touch control options when shooting through the viewfinder, thanks to the Touch Fn function that lets you quickly adjust key settings with a finger swipe. Up to eight settings can be assigned to the Touch Fn function, including focus points, AF area modes, aperture, and ISO sensitivity. It's also worth remembering that the Wi-Fi function makes it possible to control the camera remotely using the connected smart device: considering the vari-angle monitor and the quality of the images, your selfies will be stunning self-portraits that are sure to turn heads.
Creative flexibility
The D5500 is a powerful tool that allows you to make the most of your creative ideas. When the occasion calls for video, the D-Movie function records smooth, finely detailed Full HD video clips at frame rates up to 50p/60p. Offering the kind of superior performance and sharp focus that's critical for movies, the camera begins recording with a simple press of its dedicated video record button. For the ultimate precision when shooting photos, put your eye to the viewfinder, and you can follow your subjects in real time, without delay or distraction. To make the shooting process even smoother, the D5500 automatically displays the image you've just shot on the LCD monitor the moment you take your eye away from the viewfinder. When you want to fine-tune the look of what you're shooting, Nikon's second-generation Picture Control makes it easy to take complete control over sharpening, contrast, brightness, hue, and saturation when shooting stills and video. You can choose between seven modes, including the new Flat setting that retains all the details and preserves rich tonal information in both highlights and shadows, making it ideal if you plan to retouch after shooting.
NIKKOR, Speedlight, and system compatibility
The quality of NIKKOR lenses is one of the main advantages of a Nikon D-SLR over every other type of camera, and the D5500 is compatible with the full range of DX-format lenses. From compact zooms that are perfect for general use or travel, to fast prime lenses that enable beautiful bokeh (background blur), and remarkably portable telephoto lenses, there is a lens for every situation. Whichever you choose, you get the precision and flexibility to make the most of the camera's 24.2-megapixel resolution: enjoy capturing photos with vivid colour and striking contrast, or experiment with cinematic effects when shooting movies. In addition to lenses, Nikon Speedlights like the SB-300 open up opportunities to get creative with light, and the SB-500 boasts an onboard high-intensity LED light that's ideal for movie recording. When the sound of a movie matters as much as the visuals, Nikon's external stereo microphones allow you to record footage with crisp, clear audio.
Summary of Key Features
• Incredible image quality: 24.2-megapixel DX-format sensor with no OLPF
• Superior low-light performance: ISO 100–25600
• Vari-angle monitor: large 8.1-cm (3.2-in.) LCD with wide-viewing angle and high 1,037k-dot resolution
• Responsive touchscreen: tap to focus and shoot, or adjust settings such as aperture, ISO, and shutter speed
• Touch Fn function: quickly adjust key settings with a finger swipe when shooting through the viewfinder
• Built in Wi-Fi: easily share impressive photos via a compatible smartphone or tablet
• Streamlined design: monocoque structure and a deep grip. Approx. 124×97×70 mm, this camera weighs just 420 g (without battery and memory card)
• 39-point AF system: with nine cross-type sensors in the centre
• Improved contrast-detect AF: 20% faster than the D5300 when shooting in Live View
• Fast and powerful EXPEED 4 image processing engine
• Up to 5 fps continuous shooting
• Full HD movies: at 1080/50/60p and Full HD/60p output supported
• Picture Control 2.0: invaluable tools for shooting photos and movies just the way you want. Includes the new Flat setting for maximum dynamic range
• Built-in stereo microphone: and compatibility with Nikon's ME-1 Stereo Microphone
• Viewfinder: approx. 95% frame coverage with approx. 0.82x magnification
• 10 special effects for still images and movies
• 16 Scene Modes
• Creative tools: retouch menu, bracketing functions, HDR photography, interval timer shooting, vignette control
• Expandable system: Compatible with the full range of NIKKOR DX-format lenses and specific Nikon Speedlights
• Compatible with the WR-R10/WR-T10 Wireless Remote Controllers
¹ To prepare your smart device to receive photos, simply download the free Wireless Mobile Utility. The Wireless Mobile Utility is compatible with iOS™ and Android™ smart devices, and can be downloaded to your smart device from Google Play™ and the Apple App Store™. Android, Google, Google Play, YouTube, and other marks are trademarks of Google Inc.