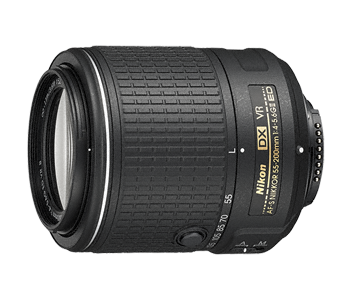 AF-S DX Nikkor 55–200mm f/4–5.6G ED VR II
Nikon today introduces the AF-S DX NIKKOR 55–200mm f/4–5.6G ED VR II, a new collapsible telephoto zoom lens that boasts a serious size advantage. Compact, light, and easy-to-handle, it's the perfect partner for smaller DX-format cameras like the new D5500.
With a flexible focal range up to 200mm, this zoom lens is ideal for close-ups of distant subjects, travel shots, sporting adventures, and amateur wildlife photography. The streamlined body means you can shoot telephoto without carrying heavy gear, and the retractable lens mechanism lets you collapse the lens for additional portability. The optical construction delivers dynamic, high-contrast images, and autofocus is fast, precise, and super-quiet. Crucially for a telephoto lens, Nikon's Vibration Reduction system enables blur-free images, even when shooting at the far end of the telephoto range.
Edward Allinson, Junior Product Manager, Lenses & Accessories, Nikon UK, says: "The new NIKKOR 55-200mm is an extremely portable and lightweight update to the already popular Nikon zoom lens. The great thing about this lens is that it's affordable and easy to use, making it a great option for those just starting out in D-SLR photography. With the portability factor and superior new design, this lens also sits in line with the successful NIKKOR 18-55mm VR lens. When paired together these two lenses can be enjoyed by D-SLR users looking to expand on their photography, whilst doing it cost effectively."
Portable telephoto
The NIKKOR 55–200mm is a great way to discover the creative advantages of shooting telephoto. Get right in the middle of the action at sporting events, capture wildlife from afar, isolate subjects against impressive cityscapes, or close in on the drama when filming a movie. The compact build makes this an especially comfortable lens to handle, and the high-quality optical construction produces beautifully sharp photos and videos even when shooting handheld. For extra reach without the extra weight, it doesn't get much lighter than this.
Vibration Reduction (VR)
Designed to enable more stable handheld shooting, Nikon's Vibration Reduction system lets you shoot at up to four stops slower, without the image-degrading blur that can be caused by camera shake. A way to counter the effects of camera shake is essential when shooting telephoto, and Nikon's VR technology is renowned for its ability to deliver clear, blur-free images at any focal length. It helps immensely when you shoot in low light, or when you're zooming in to capture distant subjects.
Dramatically sharp
Engineered to draw superior performance from your DX-format camera, the AF-S NIKKOR 55–200mm lens delivers brilliant results every time. The optical design features 13 elements in nine groups, including an extra-low dispersion glass element that helps minimise chromatic aberration for high-contrast images. Nikon's compact Silent Wave Motor (SWM) technology enables quiet, fast, and accurate autofocus performance, which is a particular advantage when shooting wildlife or movies.
Small system
Weighing just 300 g, the NIKKOR 55–200mm is a mere 83 mm long when retracted, which is seriously small for a telephoto zoom lens. Ideal for those seeking a lightweight general telephoto lens, this new NIKKOR also makes a great companion lens for the NIKKOR 18–55mm f/3.5–5.6G VR II zoom lens. Combine a small D-SLR camera with these two lenses, and you have a powerful double zoom kit that won't weigh down your bag.