It's early spring. I'm on a catamaran in the middle of the ocean, the Adriatic sea outside Croatia to be precise. The sound of the engine just went silent since we switched it off to start sailing. I feel the wind in my face. The sun is rising and it's warm rays caresses my newly awakened face. For a second the world around me just stops. The only thing I hear is the water splashing against the hull. I take a deep breath of fresh air and hold it for a while. Suddenly I get that tingly feeling when everything is perfect. I'm alive. 
This spring I had the great opportunity to join my childhood friend Paul and his family on a sailing trip to Croatia. (The interested will notice that the boat was a Lagoon 380.) A perfect opportunity to relax, eat good food, and of course make the uttermost of my camera. I spoke to Nikon just before the trip and they lent me their new AF-S 80-400 to try out. A lens that, on paper, should be the perfect super-zoom for traveling. The first thing I noticed when I had it in my hands was the sheer size of it. It's rather big and conspicuous. Experience has however taught me one thing; When a lens is big, it's usually quite good.
Thank god for VR. 
On a rocking boat it's almost impossible to capture what you want at 400 mm. You wiggle about all over the place. Without VR I'm pretty sure that all of my pictures would have lacked focus. The ones in focus though, are not perfect. They often lack contrast, and with a telephoto angle in the stunning beautiful Croatian archipelago you always want to back up a bit. Or change lens. The first choice of lens would have been the Nikon 14-24 f 2.8.
One early morning at the end of the week we started really early. The sun was yet to rise above the horizon and the ocean was absolutely calm. Paul and I sat silent, a bit tired, behind the wheels with a warm cup of tea in our hands. No-one else was awake yet. Suddenly In front of us a school of tuna appeared, jumping in the water – probably chased by dolphins in the hunt for food. My head turned into a slot machine with all the bells and whistles. "Jackpot! National Geographic, here I come."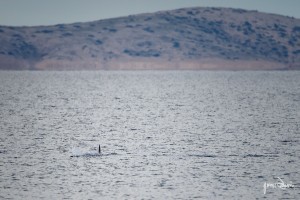 Well, my joy soon transformed to despair. Catching one of the fastest fish in the world on camera, when it's in flight over the water is hard. Really hard. Extremely hard. And on a rocking boat without a tripod I would even go as far as to say it's impossible. Especially when our goal wasn't to capture tuna on picture, but to be on time to the city of Biograd and our flight home.
Back on land, and on time, by far, we had a whole afternoon off and had the time to take a trip to the city of Zadar. In this beautiful city the lens really had the chance to shine. I was able to catch moments I never would have before and really reach far beyond my imagination. One of my best shots is from the old town of Zadar watching, far away, two children standing on the docks watching the ocean. Studying the surroundings I immediately realized, they are going to get wet. I sat down on the ground and just waited. Waited for that wave to come and splash. And it sure did.
In conclusion I can say It's a bit much zoom for use on a small boat in an archipelago, but on land it is great. The lack of contrast is no problem to fix in post. It is sharp, not too heave for it's size and the autofocus is quick and precise. But to be honest, I don't really know who this lens is for. The traveller want's the simpler and smaller 28-300, and the nature or sports photographer need more light. It's too expensive for the common photographer, but good enough to produce really nice pictures for the professional. But still, not the best.
Below is a small gallery of pictures from the trip. They are all taken with the 80-400 or my trustworthy 24-70 f 2.8.